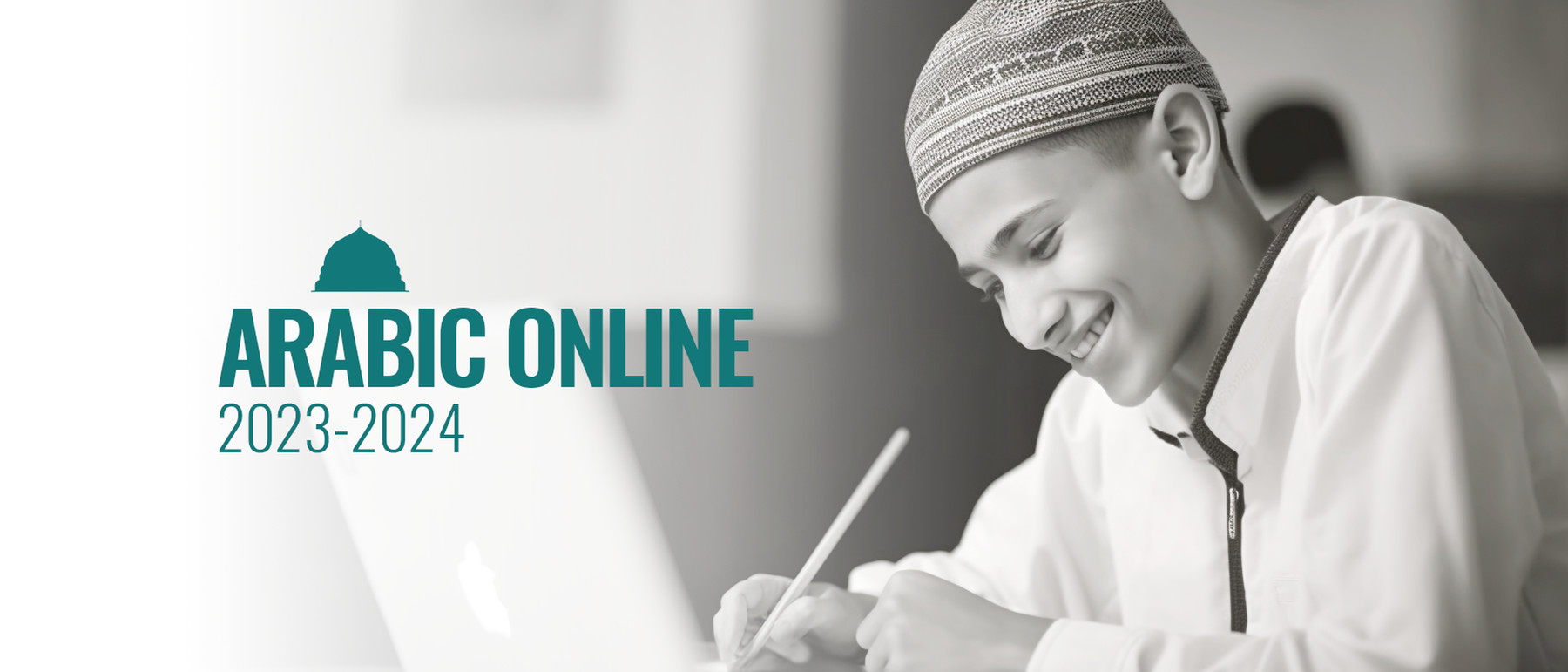 Arabic Online Kids: Fall 2023 & Spring 2024
Fall 2023 Program Dates
Start Date: Sunday, September 10, 2023

Fall Break: (No Classes) November 20-26, 2023

Classes Resume: November 27, 2023

End Date: Saturday, December 23, 2023
Spring 2024 Program Dates
Start Date: Sunday, January 21, 2024

Ramadan/Eid Break: March 11 - April April 13, 2024

Classes Resume: April 14, 2024

End Date: Saturday, May 25, 2024

Note: Daylight Savings Time (DST) begins March 13th
Program Details
Utilizing the incredible teaching staff that launched the Suhba Fellowship Arabic program, Arabic Online focuses on providing foundational, intermediate, and advanced language instruction. The program mixes classical and modern Arabic language instruction focusing on language comprehension, speaking, reading, and writing.
What makes this program unique is that the vocabulary used has been specifically tailored to aid in the students ability to access the Quran and Hadith as they develop intellectually, spiritually and academically. Furthermore, the texts used in class and homework were written and developed in order to expose students to beautiful Islamic values and adab.

14-week Arabic Program
Full time, part time and weekend school available

Over forty years of combined experience in teaching Arabic to non-native speakers

Small class sizes (9 students maximum)
Special Promotion:
Register for both Fall and Spring by August 31, 2023 and receive 15% off (excludes private lessons)
Saturday classes are now available!

Fall/Spring 2023-2024 Program Schedule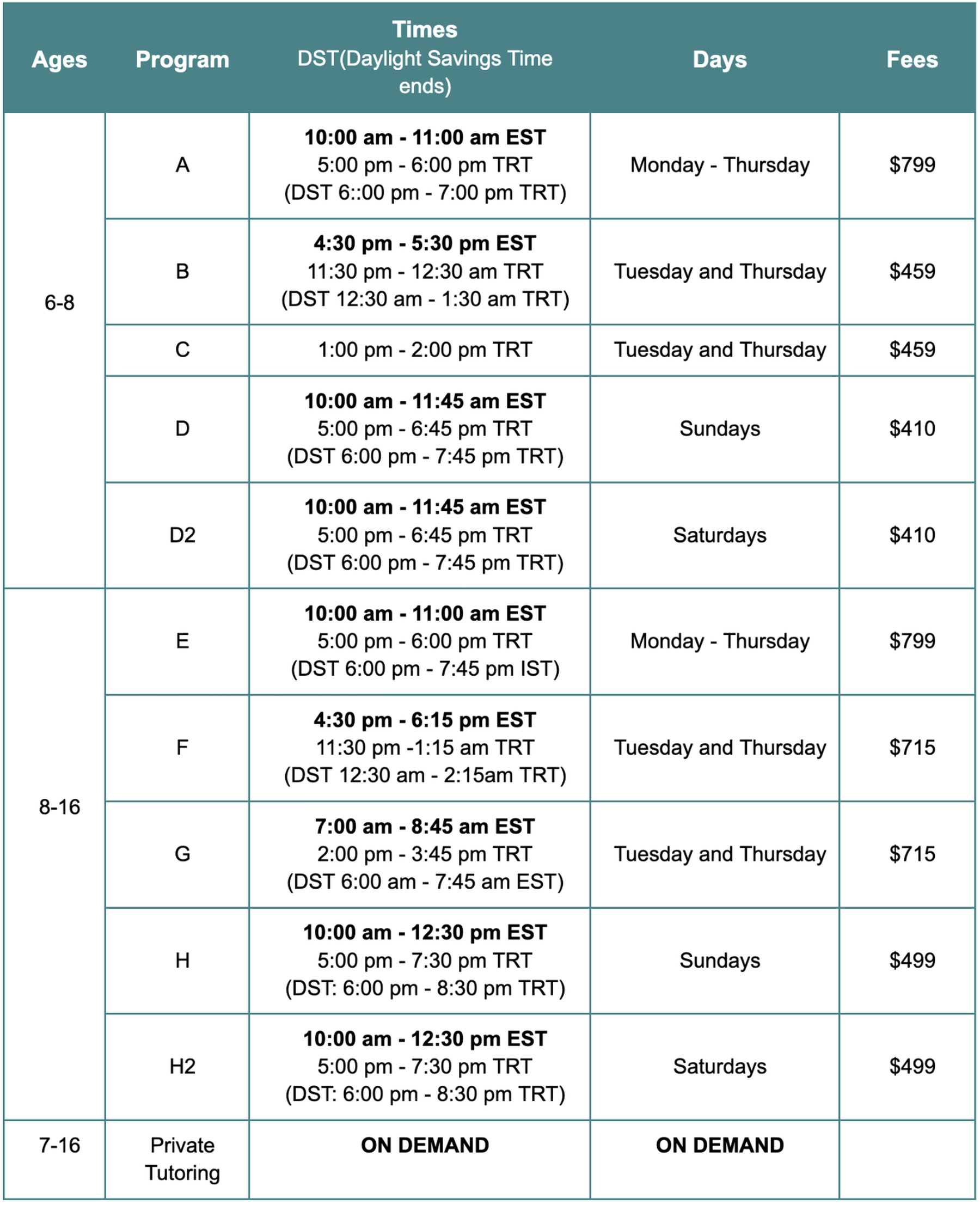 Optional Review Day Schedule: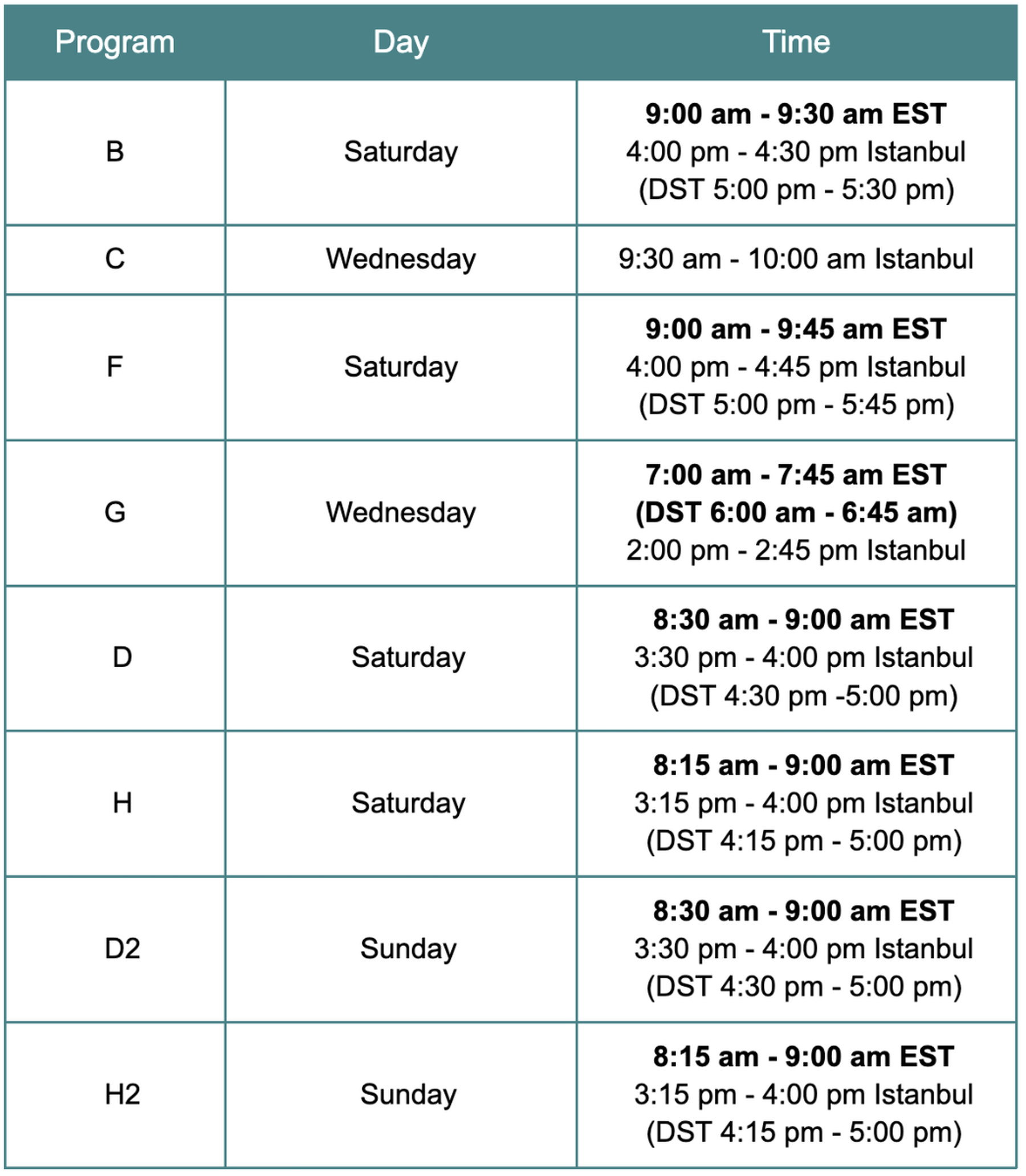 NOTES:
For a class to commence there must be a minimum of four students.

Daylight savings time will end on November 5, 2023. Programs A, B, D, D2 , E, F, H and H2 will remain in Eastern Standard Time.

Programs C and G will remain in Istanbul time.

Programs B, C,D, D2 F, G, H and2 will include an optional review day weekly. This time is available for students to join if they have questions.
Fall 2023 Program Dates
Start Date: Sunday, September 10, 2023

Fall Break: (No Classes) November 20-26, 2023

Classes Resume: November 27, 2023

End Date: Saturday, December 23, 2023
Spring 2024 Program Dates
Start Date: Sunday, January 21, 2024

Ramadan/Eid Break: March 11 - April April 13, 2024

Classes Resume: April 14, 2024

End Date: Saturday, May 25, 2024

Note: Daylight Savings Time (DST) begins March 13th
Teachers
Curriculum Details
Ages 6-7
This level concentrates on:
Being able to introduce one's self
Being able to use basic phrases such as greetings and giving thanks
Learning some of the Arabic letters and how to write them
Learning basic words (family, fruits, vegetables, colors, and animals)
The numbers from 1-10
Memorizing various Hadiths and Quranic Ayas relating to morals
This level concentrates on:
Being able to introduce one's self and family
Being able to answer many questions pertaining to one's surroundings (the house, colors, animals, and clothing) by using a few words or simple sentences
Reading and writing some letters from the Arabic alphabet
The fundamental building blocks for learning to read and write
Writing some simple words
Reading and writing the numbers from 1-10
Memorizing various Hadiths and Quranic Ayas relating to morals
Ages 8 and above
This level concentrates on:
Listening, reading, and writing the Arabic letters
Analysis and syntax of words and copying some sentences
Learning some basic vocabulary words and well known sentences
Being able to read simple words and sentences
Learning some simple issues relating to personal life (introducing one's self, family, things, colors, clothing, and animals)
The numbers from 1-20
Memorizing various Hadiths and Quranic Ayas relating to morals
This level concentrates on:
Familiar topics related to daily life
Being able to introduce one's self and family
Talking about one's clothing and daily routine
Talking about parts of one's house and what's inside it
Talking about the classroom and what's inside it
Talking about occupations, shopping, buying, and selling
Being able to describe people or animals
Learning about the weather and the four seasons
Exposing the student to fundamental grammar rules needed in previous topics
Being able to write simple words and sentences
Memorizing various Hadiths and Quranic Ayas relating to morals
This level concentrates on:
Being able to describe one's surroundings
Being able to describe external and internal characteristics
Learning about family ties and respect for the family
Expressing feelings
Using different verb tenses
Learning about biographies
Trying to make simple comparisons between 2 familiar countries or places
Talking about food, health, and doctor visits
Exposing the student to some simple descriptive and narrative long texts related to social topics
Exposing the student to fundamental grammar rules needed in previous topics
Memorizing various Hadiths and Quranic Ayas relating to morals
This level concentrates on:
Narrating past events
Reading time in Arabic
Learning how to give directions
Describing how to make food
Learning how to compare and contrast
Learning some popular proverbs, how they originated, and how to use them
Learning some stories of the Prophets and stories from the Quran
Discussing stories or movies
Memorizing various Hadiths and Quranic Ayas relating to morals
Starting to learn the basics of Arabic grammar
This level concentrates on:
Topics pertaining to scholarly figures
Learning psychology, events, and celebrations
Learning to describe historical places
Being able to describe and narrate the past, present, and future
Learning the basics of Arabic grammar
Testimonials
The Al-Mad­i­na Ara­bic Inten­sive Sum­mer Pro­gram is a pro­gram our fam­i­ly has always dreamed of and has tru­ly been life chang­ing! Every one of my four chil­dren has had a teacher that was pas­sion­ate, enthu­si­as­tic, engag­ing and encour­ag­ing with them every step of the way with instruc­tion and one on one inter­ac­tions. My kids have devel­oped a deep root­ed love for the lan­guage and we will always be indebt­ed to Al-Mad­i­na Insti­tute. We look for­ward to con­tin­u­ing and being able to have the kids speak to their fam­i­ly over­seas as well as under­stand the glo­ri­ous lan­guage of the Qur'an.

-Dr. Nibal Zaghloul and Zeina Saymeh