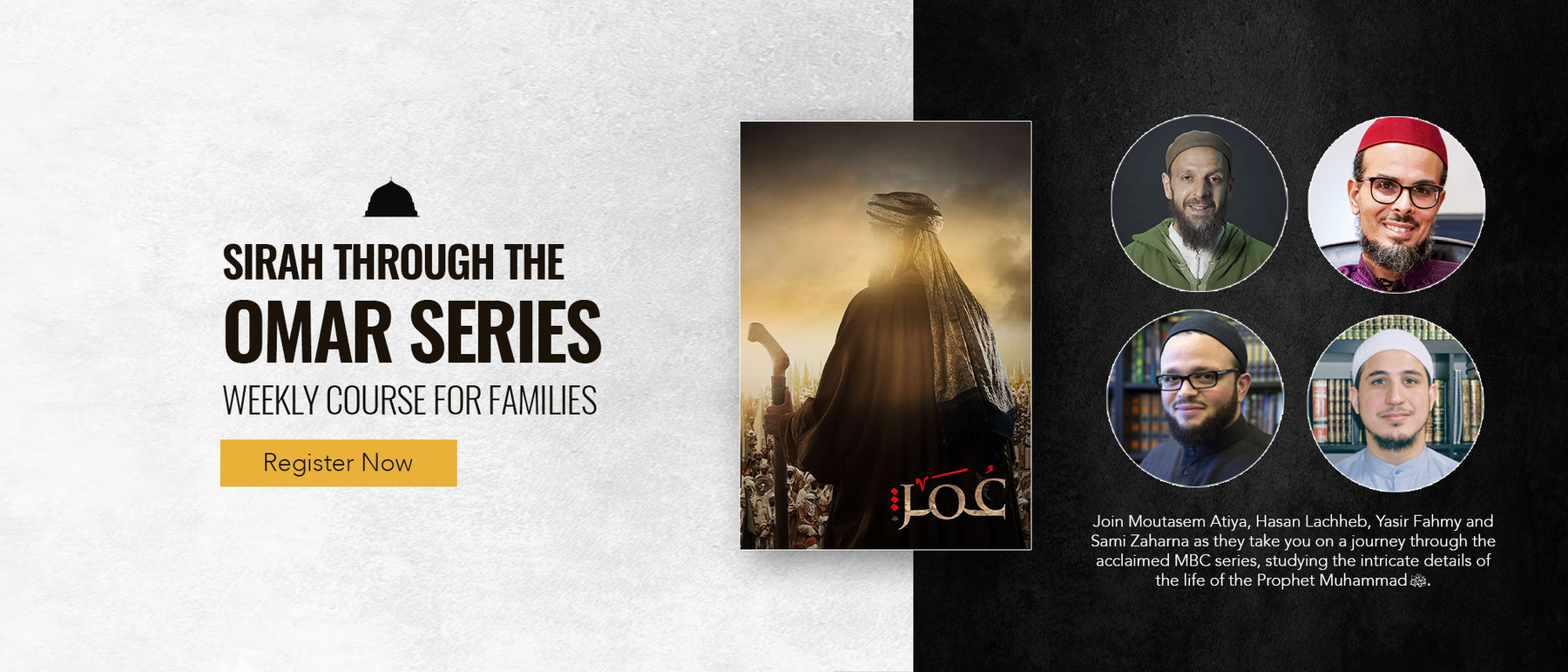 Sirah through the Omar Series | Weekly Interactive Course
Free Course
Join Moutasem Atiya, Hassan Lachheb, Yasir Fahmy and Sami Zaharna as they take you on a journey through the acclaimed MBC series, studying the intricate details of the life of the Prophet Muhammad ﷺ.

Discover the Epic Journey of the Messenger of Allah ﷺ
UPDATE: NEW DATE - OCTOBER 29TH, 2023
Welcome to our free exclusive interactive course, "Sirah through the Omar Series," where history comes to life as we delve into the captivating narrative of the Messenger of Allah ﷺ. Each week, families across the world will sit and watch one episode of the Omar series and then come together to grow, collectively, in the love of the Messenger Muhammad ﷺ.
Course Details:
Title: Sirah through the Omar Series | Weekly Interactive Course
Start Date: October 29th, 2023 **Update New Date
Duration: Weekly
Schedule: Sundays at 12pm EST
Format: 45-Minute Interactive Discussions Online
Limited Seats Available
Cost: Free
Why This Course?
The life of the Messenger of Allah ﷺ is a timeless story of faith, resilience, and transformation. Through the lens of the Omar Series, you will witness the rich tapestry of Islamic history brought to life. This course is designed to provide you with:
Engaging Discussions: Participate in thought-provoking discussions led by Moutasem Atiya, as he navigates the remarkable events and lessons from the life of the Prophet Muhammad ﷺ.
Interactive Learning: Connect with fellow learners from around the world, fostering a sense of community as you explore this inspiring journey together.
In-Depth Exploration: Gain a deeper understanding of the historical context, characters, and pivotal moments that shaped the course of Islamic history.
Limited Seats: To ensure a personalized and enriching experience, we have limited seats available. Secure your spot today!
Bring Your Family on a Quest Through Time
Don't miss this unique opportunity to embark on this journey through the Omar Series, studying the life of the Messenger of Allah ﷺ. Expand your knowledge, strengthen your faith, and connect with a global community of believers who want to grow in love of the Messenger of Allah ﷺ, together.

Reserve your seat today at no cost and be part of an extraordinary exploration of the Sirah. Our course begins on October 22nd, 2023 – mark your calendar and get ready to be inspired.